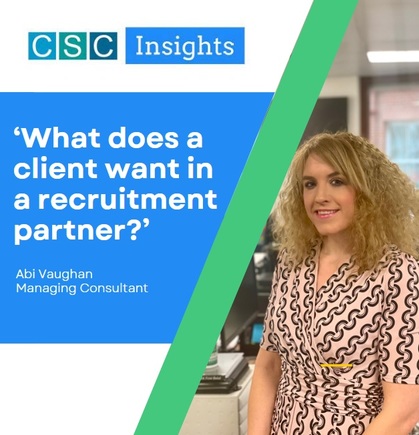 Abi Vaughan, Managing Consultant at CSC Recruitment, discusses how the partnership between an Agency and a Client can lead to success

Clients want us to find them brilliant people, but to achieve that, I passionately believe that a strong partnership enables us to do our job to the best of our ability. When you have trust between Client and Agency you can engage in open and honest conversations, giving both parties the best chance possible of securing the top talent.
To nurture this partnership we like to get under the skin of the client to understand their business and culture. It's important to meet face to face, engaging regularly with key people.
The best partner scouts the top industry talent, and takes away the worry of finding the finest workforce. Offering specialist advice, they must have great industry knowledge; speaking to lots of candidates means that we have a broad view of the market. Clients also want reassurance that agencies are 100% compliant, adhering to the industries regulations to ensure the best service possible.
It is about providing the right person for the job, making sure both Clients and Candidates are happy. Working hand-in-hand with a quality recruitment agency could help Client's find someone who can affect the future of the business, positively shaping the company.