Our guys are back and well rested from our Big Charity Bike Ride to Bruges to raise funds for Brainstrust - and have hit our target of £1,500! Here is a little bit of the team and what they got up to…

Team players:
Mark Skinner – The Mule was also the navigational whizz of the team, plotting the perfect route for our intrepid travellers.
Martin Randall – Randy Wiggins was the MVC (Most Valuable Cyclist), having incredible experience in the cycling field, and with thighs of steel.
Joanna Wilkinson – The Pendleton was titled the 'absolute machine' of the tour, with her non stop cycling force and her upbeat attitude. Nothing stops The Pendleton once she has set her mind to it.
James Roberts – Lance Notverystrong became known as the sarcastic complainer of the crew – every group needs one – and kept the team on their toes with his funny comments and general silliness.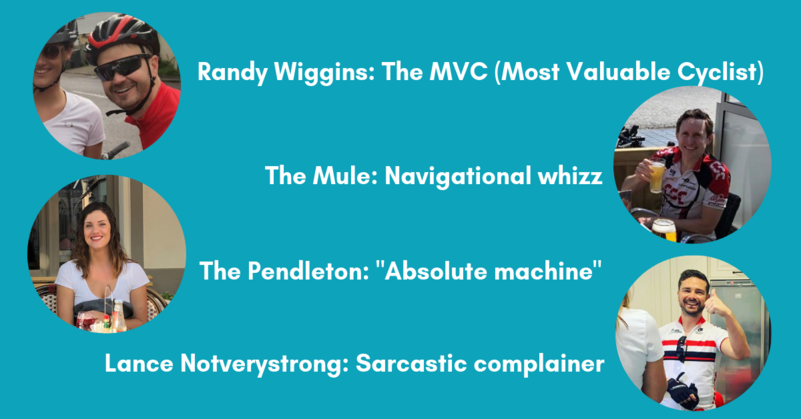 Day one: Starting in Sevenoaks and weaving through Kent, day one saw our team cycle all the way to Dover, having spotted some amazing wildlife en route, including giraffes, ostriches, the common eland and some red lechwe at Port Lympne! So taken aback by this viewing treat, Wiggins fell off his bike in surprise! But nothing was going to stop him from completing this ride, and he was back on in a jiffy.
From Dover they then caught a ferry to Dunkirk Port and cycled on to Dunkirk itself where they settled for the eve.
Day two: Travelling from Dunkirk, and having stopped off at some lovely spots along the way grabbing a few swift beers to help them along, the team made it to Bruges! Here they had a well deserved dinner and enjoyed the rest whilst they could, before hitting the hay for the final leg of their journey.
Day three: From Bruges, the team made it back to Dunkirk Port; with a puncture unable to stop them, they picked up the ferry back to Dover, the end of their cycle! From here they luckily only had to pick up the train home. In total our team cycled 200 miles - more miles than they expected due to a few miscalculations with the map reading...
As a company we are incredibly proud of the team, and are grateful to them for all the money they raised for Brainstrust. Brainstrust is a charity close to our hearts here at CSC – two of our staff have been supported by Brainstrust during their illness, and have found them to be an incredible company to lean on, providing them with care, information and a guiding hand in their recovery. Well done to our cyclists for raising donations to help Brainstrust continue with this amazing work.